Looking to invest in a laptop? Maybe you have stumbled across the name "Asus," and now you're wondering, "Are ASUS laptops Any Good?". 
Asus is a Taiwanese company that has been in business since 1989. It has held its place in the laptop market against giants like Apple, Dell, and HP. 
So, there must be something they are doing good, right? 
Their wide range of products can hit the sweet spot of consumers. 
Why?
How
What do they offer?
This post is all about it! 
Today, we will review the Asus laptop against metrics like quality, design pricing, and more.
We have done extensive research, so you don't have to! 
Let's dig in and determine if the Asus brand is worth your money.
Asus Background
Originating in Taiwan, the electronics brand Asus is estimated to become the 6th biggest PC vendor according to sales stats. The company deals in all electronics, including phones, laptops, computer components, displays, and accessories. 
Asus has been in business for over 32 years and has marketed its products globally. According to the customers' ratings, Asus has persistently scored an above-average position gaining an overall of 4.5 stars.    
According to the latest reports, Asus has an operating income of $24.9 billion. It has been listed on London and Taiwan stock exchanges. The organization employs over 15000 active employees.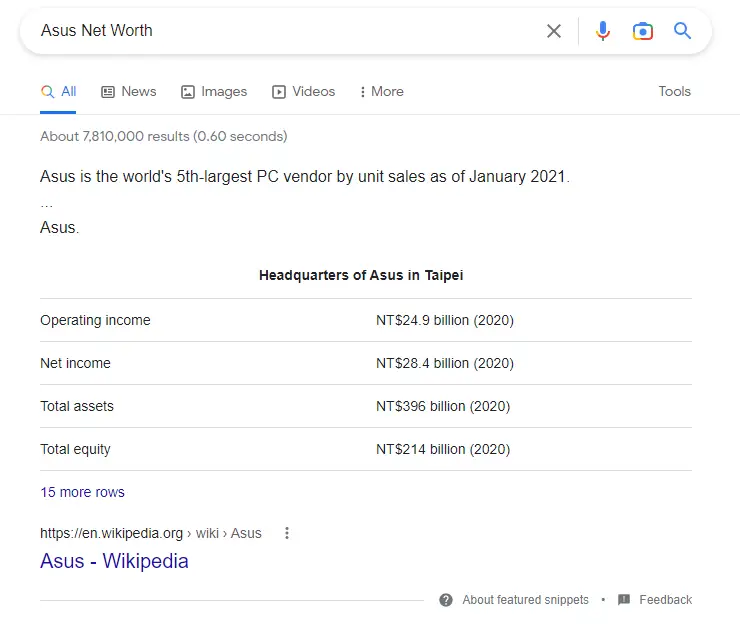 Are ASUS laptops Any Good?
Asus produces several different products, from laptops worth $500 to ASUS ROG Zephyrus GX501 for $2199. Asus has certified military-grade laptops (surviving high-grade durability tests), powerful gaming machines, and even cheaper plastic models! 
Therefore, you can find nearly every quality and design type. 
Asus has much to offer, but is it good enough for users? 
Let's look at it in detail!
Asus Longevity
So, how long does an Asus laptop last? There is no exact answer to it as it depends on the usage and handling (just as with any other PC). However, with good care and appropriate handling, Asus will last for 4-5 years on average (same as other brands). 
The more high-end laptops by the brand are built to last longer than the ones with basic features. Usually, you will find users with an Asus running smoothly for years. It is because Asus invests in a quality build that is sure to last! 
So whether you are going to purchase a high-end or low-end ASUS laptop, consider Asus as a perfect fit for reliability.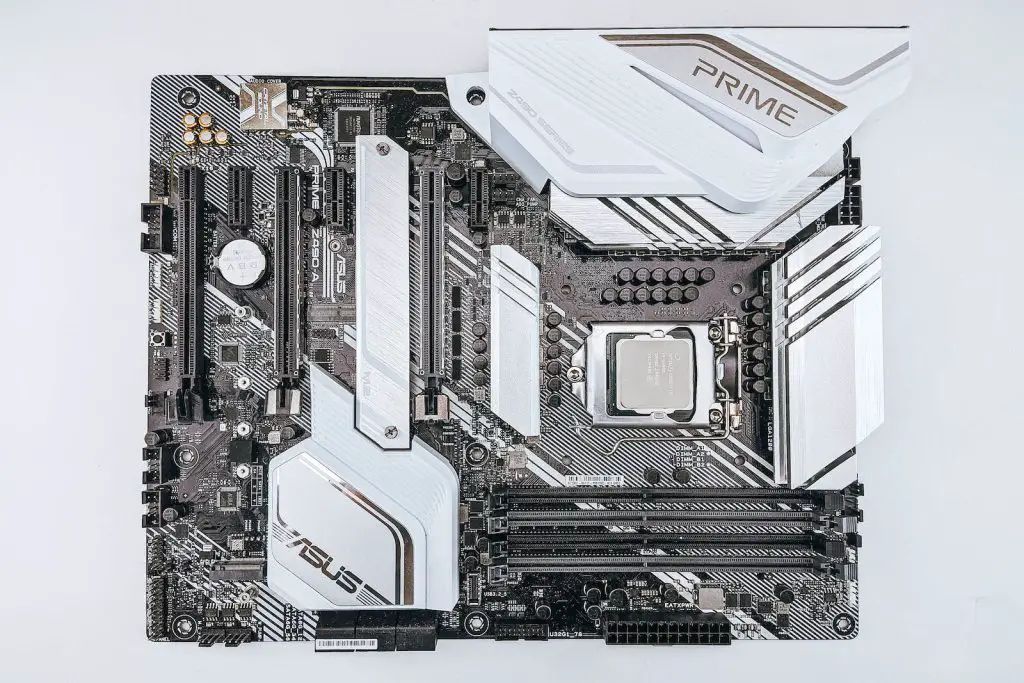 Asus Quality
The one thing you can certainly rely on upon Asus is quality. The brand spends thousands of dollars researching the best materials and providing quality to its users. Their laptops are durable and reliable. 
In fact, they have a dedicated page on their website on how they do Laptop Quality Test on under 15 extreme torture conditions.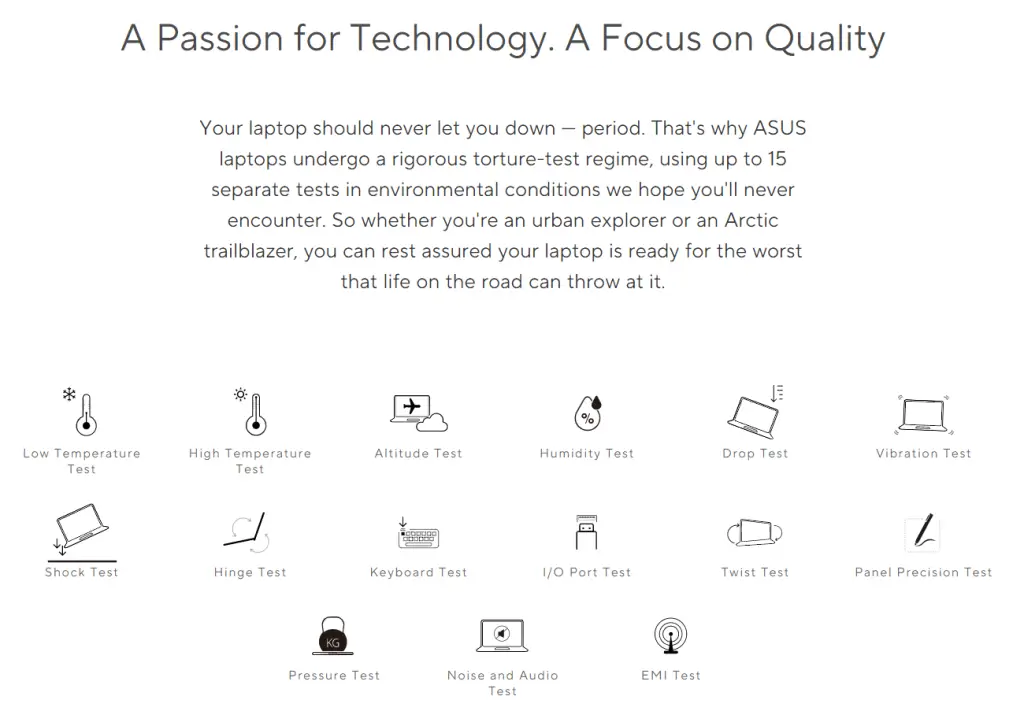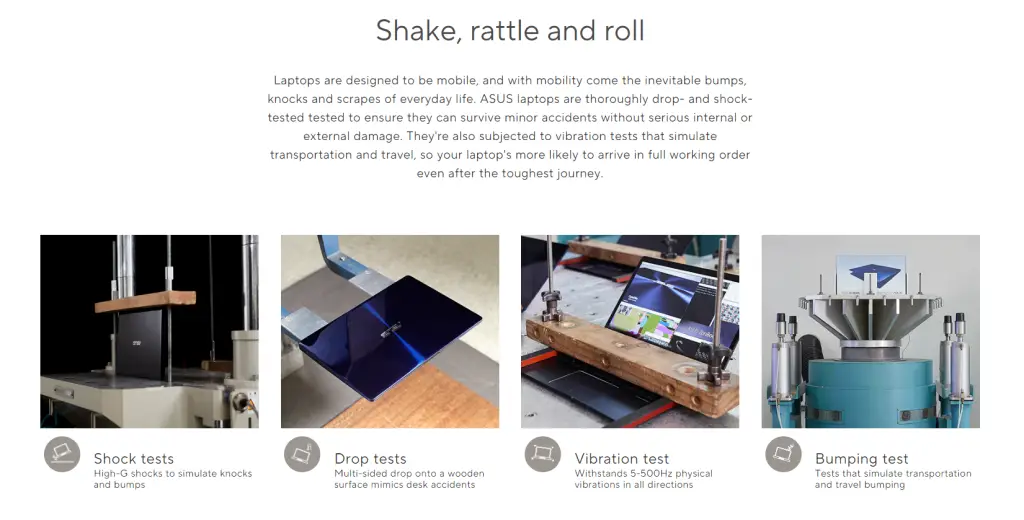 Specifically, we have found Asus to have the best cooling technology. It protects the laptop from damage and keeps it going for a long time. The hardware like keyboards, hinges, mouse pads, and plastic body is also top-standard. They don't compromise on the quality of their RAM, processors, or GPU, which makes them compete with top brands in the market.  
In short, Asus provides value for money when it comes to quality. 
Asus Design 
Design is another factor we love, Asus! Usually, we have seen brands sacrificing either quality or design for a mid-range user. However, Asus laptops pack it all!
The designs are sleek and stylish, with a good build and sturdy body. From sophisticated and minimalist office use design to a more robust gaming avatar, Asus brings a laptop design appealing to every user. 
Moreover, the designs are ergonomic and are built for efficient heavy working. 
So, are Asus laptops aesthetically pleasing? Tick!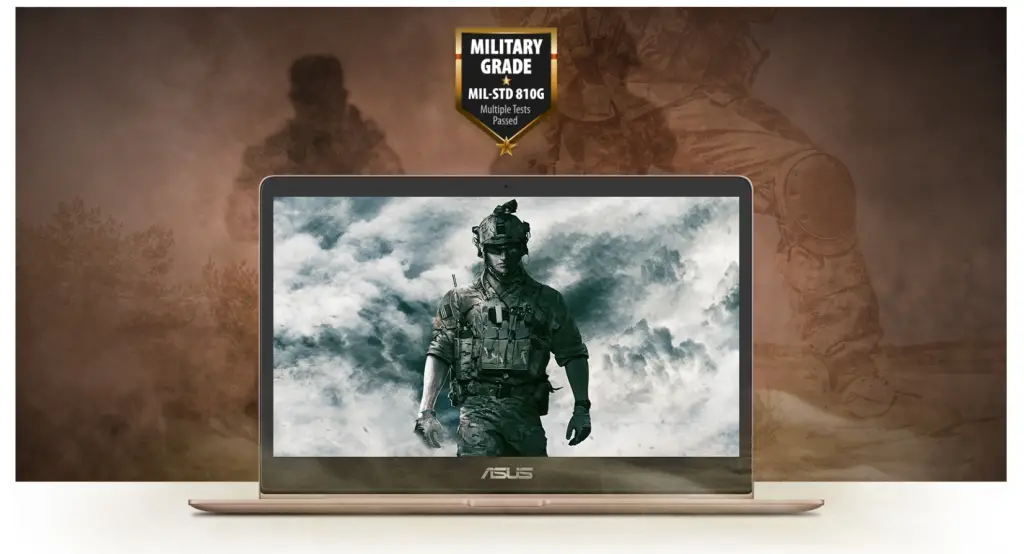 Asus Portability
Asus laptops are lightweight, compact, and easy to use. Thus, being portable. The sleek design is simple and serves the purpose. 
Certain other features offered by Asus laptops enhance its portability. Such as, the keyboard buttons are soft and highly responsive to touch. The touchpad is sensitive, and the design is easy to navigate with a short power-on mechanism. 
The screens are clear and high quality- providing an excellent viewing experience. The ports for charging, USB, and HDMI are easily found on the body and fit perfectly into the design. 
Another important feature is its reliable battery timing. For most Asus laptops, the battery lasts around 8 hours, making it a portable option. If you don't always work sitting at a desk, Asus can be a good option. It will ensure that you don't have to carry your charger everywhere!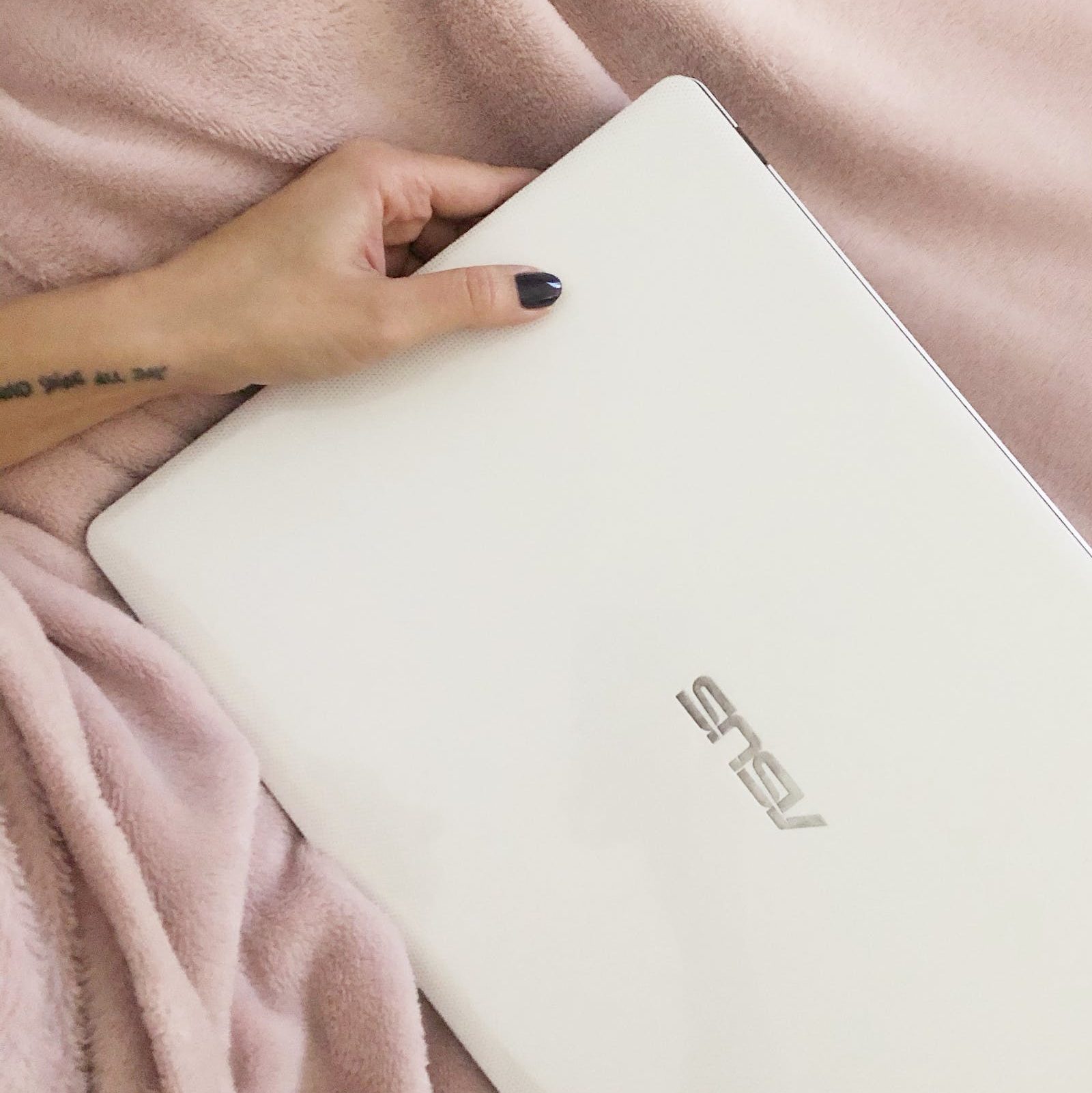 Asus Pricing
Now the best thing about Asus is, hands down, its affordability! 
Laptops are significant investments, so it is better to have a brand that suits your needs at a reasonable price. 
Asus won't put a huge dent in your pocket. Their price range is quite vast and includes low-priced laptops ideal for students to high-class premium laptops for business use. Asus also develops chrome books at budget-friendly rates.
Asus manufactures a wide variety of laptops with varied features. It makes it suitable for a user of every price range. Some cost around $1000, but they also produce cheaper models with valuable specifications. 
Asus provides a laptop configuration similar to expensive high-end brands but at a much lower cost.
Asus Warranty
Asus has a one-year warranty for its products. And you check your laptop warranty online as well.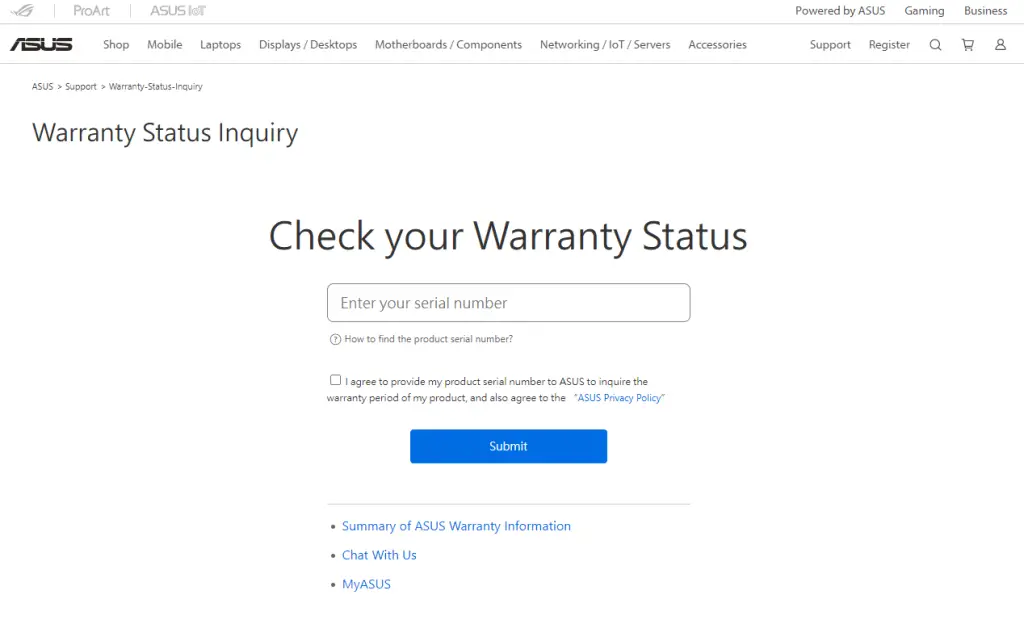 You can also increase your warranty period by paying some extra charges to the company. 
In case of any repair or replacement, you have mainly two options. You can call them over the phone, and their representatives will contact you. You can also visit their authorized service center. They can get your issue solved in a few days. 
The third option is to mail them your laptop at their services center. They will send it back after repairs or replacement. 
Asus Tech Support
When considering a brand good, one should always consider its tech support. The customer assistance a company provides speaks volumes about its reliability. 
Unexpected laptop crashing is something we all hate, and if you don't get proper assistance in time? Even more frustrating!
Therefore we take tech support very seriously. 
Asus laptops have decent customer support too. They solve your queries and answer them as well.
Asus support lines are open seven days a week. Their live chat option and online assistance are also readily available. You can also reach them via their social media accounts. 
Asus's website features a special FAQs page and an official support page. It can be a help for your immediate concerns.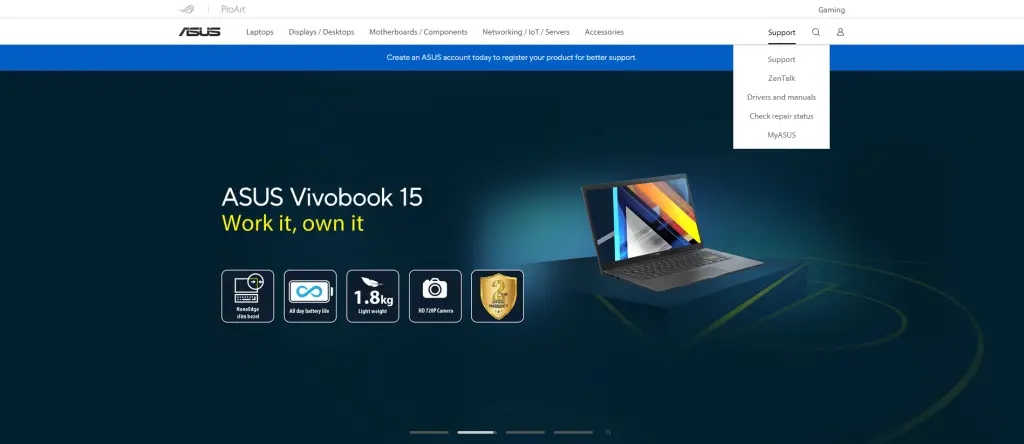 Conclusion
Asus laptops have strengthened their position in the laptop industry, but the real question is, "Is Asus a good laptop brand?" We have tested out Asus against various metrics to answer your query. 
Overall, the Asus laptops are portable, good-quality machines. They also last longer than most of the laptop brands out there. Plus, they offer a sleek and sturdy design. The best thing is their low prices which lets them cut through the competition in the market. They come with a good one-year warranty and a tech support system. Due to their wide product line, an Asus product is available for every user need.
So, our final verdict? Yes, Asus is a good brand and provides great value for money! 
Frequently Asked Questions
1- Asus vs. HP, which is a better laptop brand?
HP is a popular laptop brand with a large market share of laptop sales. But, regarding Asus vs. HP, you need to see which best suits your needs. 
Asus has a wide range of products, from affordable to high-end gaming models. HP also possesses a good collection of laptops, but it is usually more expensive than Asus. Overall, Asus provides more quality and value for money. 
However, you should choose HP for building a powerful gaming machine for desktops. In comparison, Asus would again be your partner if you want to go a budget-friendly way!
2- How long do Asus laptops last?
The laptops by the Asus brand come with a warranty of 1 year from the date of purchase. It allows limited repair and hardware services in countries with authorized repair centers. 
However, we found Asus to last a good period before it breaks down or wears off. According to SquareTrade,  Asus is one of the most reliable laptops having less than a 16% chance of hardware malfunction.   
3- Do Asus make good laptops?
Asus has been around for quite some time, and it is safe to say that they have made its reputation as a dependable laptop brand. 
Asus has recently bagged 20 awards at Consumer Electronics Show (CES) for its innovation and performance. They have an extensive range of products with multiple features that fit the budget of nearly every user.  
4- Why are Asus laptops so cheap?
There are some reasons you will find a cheap Asus alternative for high-end brands. Mainly:
Asus is a mass-manufacturing company. They produce laptops in bulk quantities and have launched hundreds of models. It keeps their costs of manufacturing low. 
Since Asus cater to a large market, their laptop materials are slightly low quality. We are not saying they are bad quality, but they are not as good as the other popular laptop brands. So, it also reduces their manufacturing costs. 
Asus only employs a limited amount of marketing strategies. They save their marketing costs and try to develop new, better models each year. 
5- Are Asus laptops good for gaming?
Asus actually makes a fantastic range of gaming laptops. They have launched a few hybrid gaming machines that stand out to compete with every expensive brand in the market.
ASUS ROG Flow Z13 and ASUS – ROG Zephyrus G14 are excellent examples of hybrid and gaming laptops produced by Asus.